Dear patients,
due to the Corona virus epidemic only urgent cases are allowed to enter the practice.
Please don't visit us without an appointment. Talk to us ahead via e-mail oder Signal messenger or call us.
To order a prescription please write to us via e-mail or Signal messenger. We will forward it to the pharmacy and inform you where to pick it up. This way we avoid your entering the practice.
Please support us to end the epidemic as quickly as possible to get back to normality. This is only possible if we all reduce personal contacts to an absolute minimum. The ones who don't have to work (elderly people) and those who can work from home should do so and only leave home to by foods.
We will keep you informed on this site (see page above "Corona").

NEW PROCEEDINGS IN OUR PRACTICE:
Appointments 5 or 10 min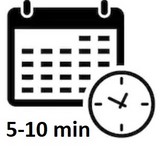 To have as little people as possible in the practice, consultation hours without appointments will be cancelled and substituted by appointments lasting 5 or 10 minutes to keep you just as long as absolutely necessary in the "infection zone". Please arrange an appointment ahead using Signal, e-mail oder the telephone.
Vacations and other topics
In 2020 the practice will remain closed due to vacations on these dates:


27.01. to 31.01.2020
06.07. to 10.07.2020
03.08. to 14.08.2020
26.10. to 01.11.2020


We cancelled our vacation from April 14th to 18th 2020 due to the Corona pandemic.

Your practice team